About Us
CDE Fastener Inc. is a family owned & operated bulk fastener distributor, founded in 1995.  We want to help you build the world.  CDE has over 40,000 fastening products online, in stock and ready to ship same day, Monday - Friday. We aim to offer the best prices and availability. CDE has established shipping locations across America to assure you quick deliveries, outstanding service and the highest quality of fasteners.  We offer viable solutions for all your fastening needs.  Please contact us for help with any product or ask about hard to find specialty fasteners on our Customs Order page.  CDE Fasteners also has a walk-in storefront located in Brick, New Jersey.  Easy online ordering, fast shipping, high quality bulk fasteners at your fingertips - Saving you time and money.  Now Let's Get Building! ®
How CDE Can Help?
Always Over 40,000 Fasteners Online & In Stock 
Reliable Same Day Shipping Monday - Friday
Digital Record Of Order History & Ease Of Reordering
Knowledgeable Staff For Your Fastener Questions.  Live Chat, Phone, Fax & Email
Quoting for Larger Orders & Blanket Orders
Desktop, Mobile, and Tablet Ordering
Why CDE?
Save Time & Money
Reduced Stress & Ease Of Replenishment
Work Directly With Owners
Shipping Locations Across USA
Over 35 Years Fastener Industry Experience
What are the likely Results?
Robustly Built Products & Projects With Quality Fasteners
Time & Cost Savings
Clear Visibility Of Transactions
A Feel Good For Supporting Small Business
What are the Alternatives?
Calling Back & Forth For Pricing
Spending Time Driving To Store To Find Parts Unavailable
Lack Of Past Order History Transparency
Getting Advice From Someone Who Is Only Interested In Selling, Instead Of Helping 
Paying More & Spending More Time Procuring Instead Of Building
OUR HISTORY | ABOUT THE FOUNDER | WHAT IS CDE? | TESTIMONIALS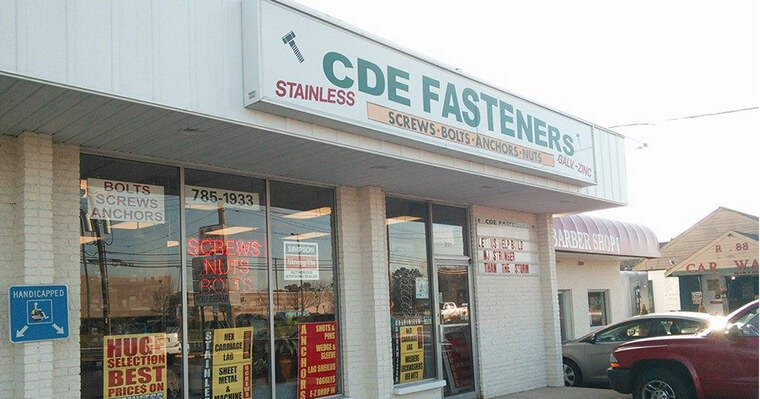 OUR HISTORY
Just like so many other successful companies, CDE began in 1995 in a 15x20' one-car garage. Within one year, as supplies increased and shelves overflowed, we opened a storefront on Rt. 88 in Brick, NJ. Created to serve both walk-in customers and bulk industrial suppliers alike, CDE quickly became a destination place for all kinds of industry needs, and for over two decades, users of all types have passed through our doors. CDE Fasteners supports the local municipalities, marinas, automotive, manufacturing, construction, utilities, schools, and more not only in the Ocean/Monmouth County areas but throughout New Jersey and across the country. Selling bulk screws, bolts and nuts, CDE Fasteners has an edge over traditional hardware supply stores, as prices are cut lower, to match individual needs. Purchasing fasteners in bulk reduces cost and allows customers more time to focus on building. From an idea, to a garage, to a storefront, CDE Fasteners has grown over the years, and now history has repeated itself once again as, in 2015, we expanded further to meet the needs of our customers by including bulk online fastener distribution.
ABOUT THE FOUNDER
Over 30 years ago, Ed Heck, a few years out of college, with a degree in business, started working for a large fastener company. He worked his way up the ladder from the stock room, to shipping and receiving, to inside and outside sales. His experience and expertise, along with his outgoing personality, led to many successes and eventually he became head of sales and then General Manager. Solving problems was Ed's forte. He was acutely attuned to providing ultimate customer satisfaction no matter how small or big the job. His work ethic and his mind for the business led Ed to expand the company business to include importers, which doubled their profits.  Since Ed's early days in college, it had always been his dream to own his own business.  After learning his trade, paying his dues, and gaining experience at a larger firm, the chance to break out on his own became Ed's most obvious next move. Thus, CDE Fasteners was born. Since those early days, Ed's uncanny ability to work with people and problem solve has led to over 20 years of success and growth. Ed Heck is a family man, married for 35 years to his wife, Connie, and currently resides in Brick, NJ, a few miles from his store. Ed's passion for his work is unparalleled as he rises every day to open the store, and rarely takes vacations. Even during a serious battle with cancer, Ed could not be stopped from opening his store to help his customers, even making calls for deliveries from home. His practice and principles helped him earn his reputation with his many customers who trust and depend on him. You build a better world one day at a time.
WHAT IS CDE?
'CDE' represents the names of the founder, Ed, the owner, Ed's wife and accountant, Connie, and their son, Daniel, who created this website. The name was formed while sitting around the kitchen table in 1995. Since it was going to be a family owned and run business, Daniel, at age 8, came up with the idea of CDE, and they've never looked back.
WHAT OUR CUSTOMERS SAY
I have shopped at CDE Fasteners for many years and have never been disappointed. They always have what I am looking for and the owner Ed Heck is always available to answer any questions I have. They usually ship the merchandise the same day and I have it within a day or two. I would highly recommend this company. -Natures Best Landscaping Inc.
CDE has provided our company with our hardware needs for many years. CDE always has the best price, best availability and prompt service. If they don't have it, they will get it. -Atlantic Lifts/Atlantic Dock & Bulkhead
Early last year, I had become very unhappy with my existing hardware distributors. There always seemed to be a problem with pricing, inventory, product availability and/or shipment issues. These problems persisted as an on-going soap opera. Needing a serious change, I stopped into CDE Fasteners one day to discuss new options. I met with the owner, Ed Heck who right away valued me as a customer, from the first handshake. This said everything to me, and I was sold right then and there. Since then, CDE Fasteners has delivered on their word and today we have a wonderful business relationship. They now account for 100% of my hardware items. -Ian Wittmann, General Manager/Partner for Awning Design
- See More Reviews On Google  ★★★★★